A new fire-resistant timber community hall has risen from the ashes of the 2009 Black Saturday fires thanks to generous donations of time and money from numerous companies and individuals.
After the original Narbethong Community Hall burned down, the Narbethong Public Hall Committee contacted Emergency Architects looking for low-cost help with the rebuilding process. BVN and Arup were soon on board offering architectural and engineering services at no charge, and other consultants followed including SGM, Rodney Vapp & Associates, Contour Planning, Rodney Aujard & Associates, Douglas Partners Pty Ltd, Fitzgerald Frisbee Landscape Architecture. This large pro bono team worked in conjunction with the Victorian Bushfire Recovery and Reconstruction Authority, DSE, Murrindindi Shire and the Narbethong Public Hall Committee to design and implement the rebuilding of the hall. Many other suppliers donated, or provided at reduced costs, a range of furniture and fittings to finish the hall to the highest standards while the Victorian Bushfire Appeal Fund and McDonald's provided major funding.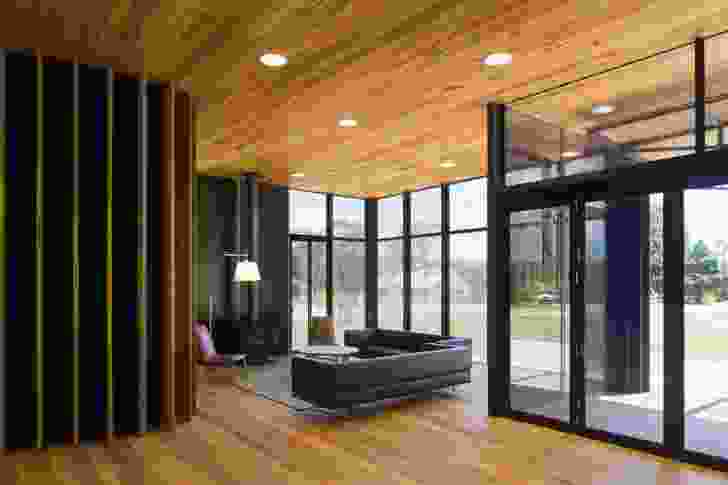 The original hall had its share of issues. It was a basic timber mid-twentieth century structure built fronting the busy Maroondah Highway with little connection to the surrounding landscape. Comprising a single large space, it lacked adequate heating, and facilities were limited and outmoded.
When faced with creating a new hall, the community asked for a building that expressed the heritage of Narbethong – a town that developed around the timber industry. Timber was therefore an obvious material choice but the challenge was that, due to its proximity to a bush reserve, the new hall was required to meet a high bushfire attack level to ensure its longevity.
A fire resistant solution was found in wrapping the floor-to-ceiling double-glazed exterior in bronze mesh, allowing the interior to be predominantly timber. The primary large gathering space is at the centre of the building, and has direct access to an outdoor gathering space to the north. The floor and ceiling are timber, and vertical timber blades define the curving walls that hide the kitchen and bathroom facilities, creating nooks for smaller group meetings. These blades are reminiscent of the beautiful trees found in the region. The building's primary entry and new carpark are to the south of the site, while the more enclosed spaces – such as the kitchen and amenities – are located on the east and west facades to limit solar gain and reduce heat loss. Spaces can be individually heated and cooled. The corners of the building are kept clear to enable views into and out of the hall from all aspects.
Rebuilding the Narbethong Community Hall also presented an opportunity to create a new typology for community buildings. Typically, community hall buildings are closed structures. The new, larger Narbethong Community Hall is a highly transparent building that lets passers-by see the life inside and allows the hall's users to connect with the surrounding landscape.
Related topics